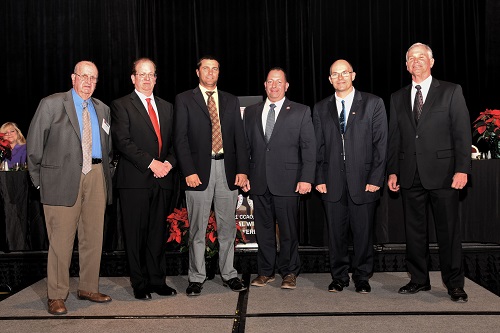 Columbus, Ohio – The County Engineers Association of Ohio (CEAO) presented state recognition awards to Ohio County Engineers and their staff during its annual business meeting December 8 - 10, 2021.
Joe Bachman, P.E., P.S., Tuscarawas County Engineer received the award of 2021 CEAO County Engineer of the Year. Greg Wilkens, P.E., P.S., Butler County Engineer was presented with the CEAO David Brand Safety Award. The CEAO County Engineer Employee of the Year Award was given to Adam Fricke, P.E., P.S., Clinton County.
The incoming 2022 CEAO Officers are President Keith A. Bennett, Stark County Engineer; 1st Vice President Brett A. Boothe, Gallia County Engineer; 2nd Vice President Patrick T. Ginnetti, Mahoning County Engineer; Treasurer James A. Wiechart, Mercer County Engineer; and Immediate Past President Frederick T. Wachtel, Coshocton County Engineer.
view all
Upcoming Events
February 3-4, 2022
Marriott NW
Dublin, Ohio
This conference is for elected Ohio County Engineers and their selected staff only.
view event details >
Latest News
01/21/2022
YOUNGSTOWN, Ohio (WKBN) – Some much-needed help could be coming for local governments needing to make bridge repairs by way of the nation's infrastructure spending package passed last year.
Right now, the Market Street Bridge in Youngstown is on a shortlist of spans put together by Mahoning County Engineer Pat Ginnetti for repairs or replacement. He's hoping the county will receive a share of the $500 million coming to Ohio for bridge work.
---
01/20/2022
LISBON — Although it is not in Columbiana County, County Engineer Bert Dawson gave the Columbiana County Transportation Improvement District board (CCTID) an update on the long-awaited U.S. Route 30 project. Dawson said the relocation of the road appears to be moving forward from Trump Avenue to state Route 44, which will bypass East Canton.
---
01/20/2022
The recently passed infrastructure bill is set to fund millions of dollars in bridge projects throughout the state, which could include some of the state's biggest thoroughfares.
U.S. Senator Sherrod Brown said the $100 million in bridge formula funding coming to Ohio through the federal Infrastructure Investment and Jobs Act will bring direct funding as well as competitive grants, allowing everyone from the Ohio Department of Transportation to local county engineers to address maintenance priorities they couldn't fund in the past.
---
01/18/2022
Clinton County is honored to have the County Engineers Association of Ohio (CEAO) County Engineer Employee of the Year Award presented to Adam Fricke, who is chief deputy engineer at the Clinton County Engineer's Office.
---
01/11/2022
DEFIANCE — A project to improve safety at three U.S. 24 intersections, just east of the city, was awarded funds from the Highway Safety Improvement Program.
view all news