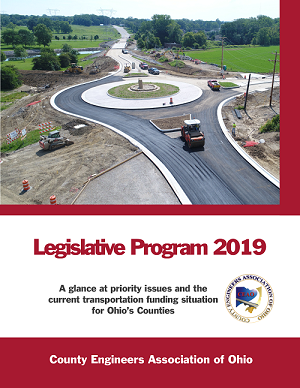 Columbus, Ohio – The County Engineers Association of Ohio (CEAO) released its 2019 Legislative Program on Friday, February 8 during their annual Engineers Conference at the Marriott Northwest.
Doug Reinhart, PE, PS, Auglaize County Engineer, CEAO Legislative Committee Co-Chair; Brett Boothe, PE, PS, Gallia County Engineer, CEAO Legislative Committee Co-Chair and Dean C. Ringle, PE, PS, CEAO Executive Director presented the document and information to board members. The brochure provides a glance at priority issues and the current transportation funding situation for Ohio's Counties.
view all
Latest News
02/06/2019
Columbus, OH –As Gov. Mike DeWine and state lawmakers consider a possible gas-tax increase, Ohio's transportation director warned Tuesday that the state's road maintenance and infrastructure projects are facing an "impending crisis" unless more money is generated.
---
01/23/2019
Growing statewide coalition of business, local government and transportation industry leaders launch effort
to educate Ohioans on looming transportation funding shortfall
Columbus, OH – Sharply reduced funding for vital improvements to Ohio's deteriorating roads and bridges presents a major economic and transportation problem according to a statewide coalition advocating for adequate infrastructure spending.
---
01/22/2019
Columbus, Ohio — Among the first orders of business for Gov. Mike DeWine and the 133rd Ohio General Assembly
will be setting a new two-year transportation budget. For a good start, they should consider a plan by a statewide coalition to get a shriveling transportation capital program back on track. Fix Our Roads Ohio, a group including county governments, chambers of commerce, regional planning bodies and transportation organizations, is sounding the alarm: Even as Ohio's roads, bridges and transit systems become more congested and in need of repair, transportation funding is about to take a dive.
---
01/22/2019
Clinton County —Gary Smith, Engineering Assistant at the Clinton County Engineer's Office, was awarded the CEAO David Brand Safety Award at the County Commissioners Association of Ohio and County Engineers Association of Ohio Winter Conference in December.
---
12/21/2018
Delaware County — Delaware County Engineer Chris Bauserman, P.E., P.S., and staff received the 2018 County Engineer of the Year award from the County Engineers Association of Ohio (CEAO) during its annual business meeting held Dec. 9-11.
view all news